Well I'm back, and yeah it's been a while. Wanting to change things up (while slowly getting my feet wet with writing again), here's a new feature detailing what I'm really into currently. You'll notice not everything is new, but hey, they are new to me.
I recently gave in and signed up for Apple Music's 3-month trial. I've been tempted to join quite a few times in the past but always felt weird about the concept of renting (and not owning) music.
Well turns out one good thing about having a music subscription is having access not only to the music you may buy, but also (and especially) access to the ones you know you probably won't. Like classical music, or in this case French pop.
One of my best friends is French, and I've visited him in Paris no less than three times across various stages of my adult life. Because of that, he's had a huge impact in shaping me into who I am today, and a big part of that influence by proxy is French culture and music.
Whether it's AIR or Charlotte Gainsbourg, Sébastien Tellier or Yael Naim, French music has always been a mainstay in my music collection. Christine and the Queens marks my best first finds in 2016.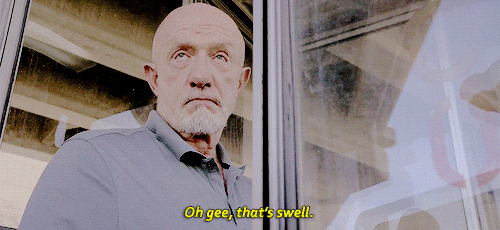 Mike's always been my favorite character from Breaking Bad. Now that Better Call Saul is finally, finally on Netflix, I binge watched the entire season over a single weekend. This episode in particular about his past is just absolutely precious.
Podcasts (and music) offer something other art medium do not — the flexibility of multitasking. As good as Game of Thrones may be, you can't really watch the show (or read the book) while you drive or when you're out jogging. But not so with audio and podcasts.
And it's one thing to listen to podcast while you multitask, it's something else when the content moved you so much that you had to stop what you're doing in order to give it your full, undivided attention. This episode does just that… It tears your heart apart to pieces before lifting you up. Just amazing.
You can listen to the entire episode here.
You're the One That I Want, Lo-Fang
I am such a bad gay. Having exactly zero idea this was a cover from the musical Grease, I was fascinated by Lo-Fang's haunted voice and the very first line of the song — "I've got chills, they're multiplying". And boy did I feel that when this song came on during an episode of HBO's Leftovers.
Being born in British-ruled Hong Kong and growing up in San Francisco and self-identify as gay, my identity is all over the place. And for a really long time I didn't really know where I belong — and often times I still don't. But the good thing is there's this vibrant community a mere click away. A community called YouTube, where you can find and ask and learn anything in seconds!
Half Filipino/British and fully raised in Hong Kong, Asha is apparently one of the first Hong Kong vlogger on YouTube. I can't recall how I landed on her vlog but I'm so glad I did. In her videos she often shares her views about Hong Kong culture from both a local and global perspective. She also speaks and think in both Chinese and English — something I can totally relate to. Finding her channel and videos has been such a breath of fresh air!